Diploma in Biotechnology
JPT/BPP(R3/545/4/0005)03/26, (MQA/A6789)

Total Tuition Fee
RM 34,200.00

Duration of Study
2.5 Years
7 Semesters

Intake Period
JANUARY / MAY / JULY / OCTOBER
Introduction
This internationally recognised diploma prepares you with the skills and know-how on new biological processes of commercial importance in a diverse range of industries such as pharmaceutical, agricultural, industrial, forensic and healthcare sectors. Graduates of this programme can progress to enter a relevant Degree programme at Nilai University or overseas universities.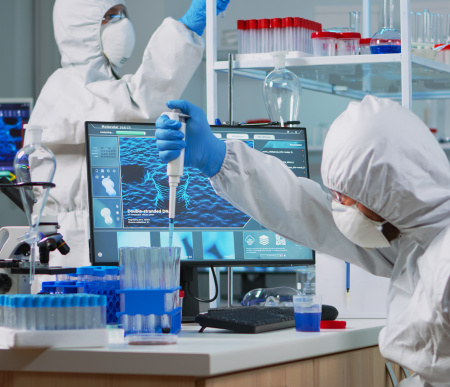 Entry Requirements
| | |
| --- | --- |
| SPM | A pass with a credit in three (3) subjects inclusive of Mathematics and one Science subject |
| O-Level | A pass with Grade C (3) in three subjects inclusive of Mathematics and Science subject |
| UEC | A pass with at least grade B in three (3) subjects inclusive of Mathematics and one Science subject |
| STPM* | A pass with a minimum of Grade C (GP2.00) in any subject and possess SPM with three (3) credits inclusive of Mathematics and one (1) Science subject |
| STAM* | A pass with a minimum grade of Maqbul (Pass) and possess SPM with three (3) credits inclusive of Mathematics and one Science subject |
| SKM / SKK(Level 3) | A Pass in a related field and possess SPM with one (1) credit |
| Certificate (Level 3, MQF) | A pass in a related field with minimum CGPA of 2.00 |
*The credit requirement at the SPM level for candidates can be waived if the grades obtained at the STPM/ STAM level are equivalent/ higher
English Language Requirements* (for international students)
| | |
| --- | --- |
| IELTS | 5.0 |
| TOEFL | 410 (PBT) / 30-31 (iBT) |
| Pearson | 47 |
| MUET | 3 |
*International students with qualifications from educational systems where English language is the main medium of instruction are exempted from this requirement.
International students who do not fulfil the English Language Requirements may join the Intensive English Programme at Nilai University which builds their skills in the language and prepares them for the IELTS examination.
Programme Module
Foundational
Fundamental and Biological Sciences
Basic Business Administration
Basic Microbiology
Cell and Molecular Biology
General Biochemistry
Introductory Biology
Introductory Chemistry
Introductory Genetics
Organic Chemistry
Statistics
Discipline Core
Agricultural And Industrial Biotechnology
Basic Techniques in Molecular Biology
Cell Culture Techniques
Introductory Bioinformatics
Marine And Environmental Biotechnology
Medical Biotechnology
Principles of Entrepreneurship
Generic Skills
Introduction to Information Technology
Introduction to Public Speaking
Summative
Summative (Biotechnology)
Mata Pelajaran Umum
Industrial Training
Malay Language (Only for Malaysian students without a credit in SPM BM)
Programme Pathway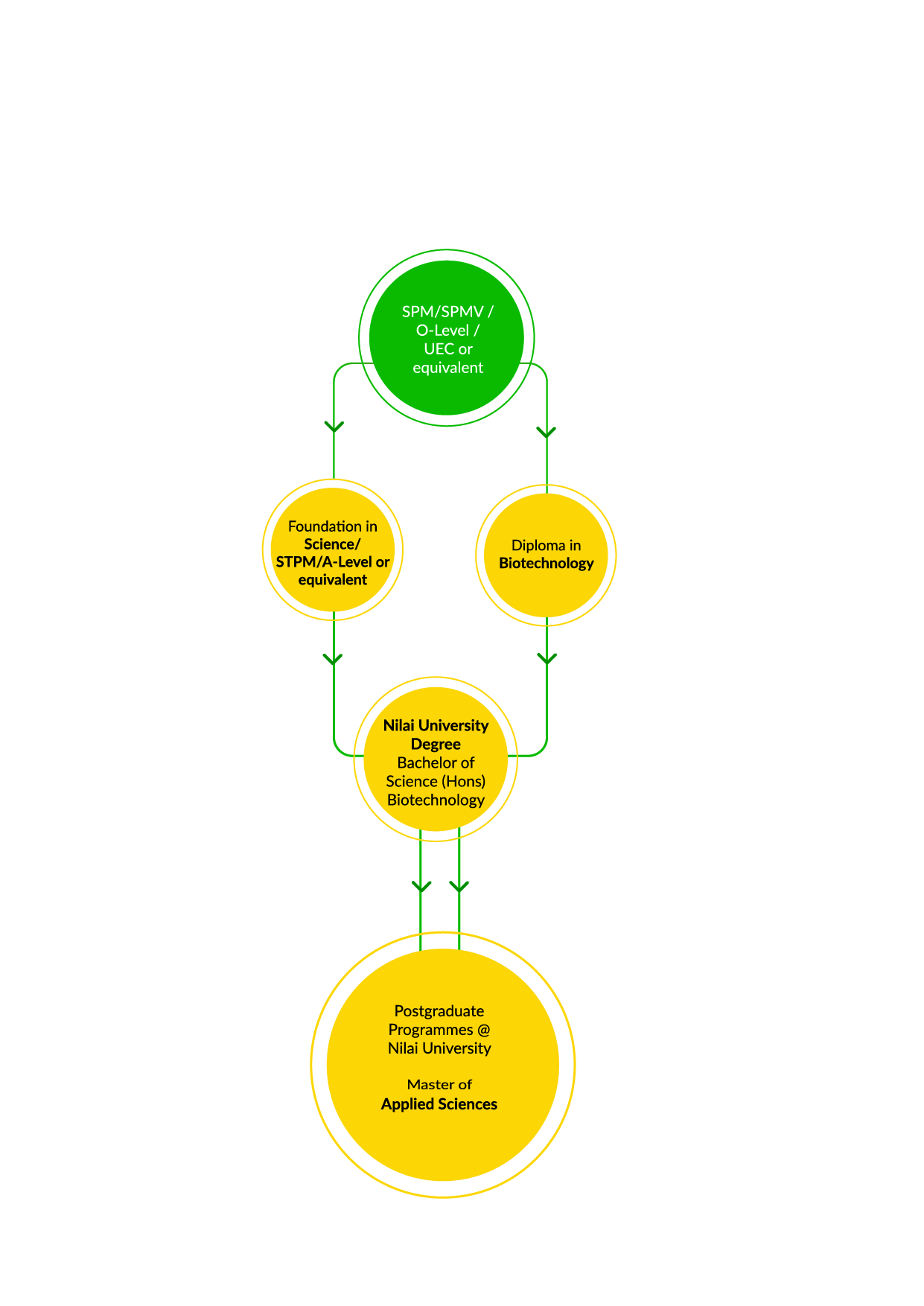 Career Prospects
Here are some career options after you've graduated in Biotechnology:
Epidemiologists
Genetic Counsellors
Wildlife Biologist
MIcrobiologists
Biochemists & Biophysicists
Biological Technicians
Medical Scientists
Director of Product Strategy
Biomnaufacturing Specialists
Scholarship
Nilai University offers scholarships for students from various backgrounds, with the goal of helping students grow to be well-rounded and ambitious individuals and allowing them to reach their goals through quality education. We achieve this by combining academic excellence with a growth mindset for life-long learning.