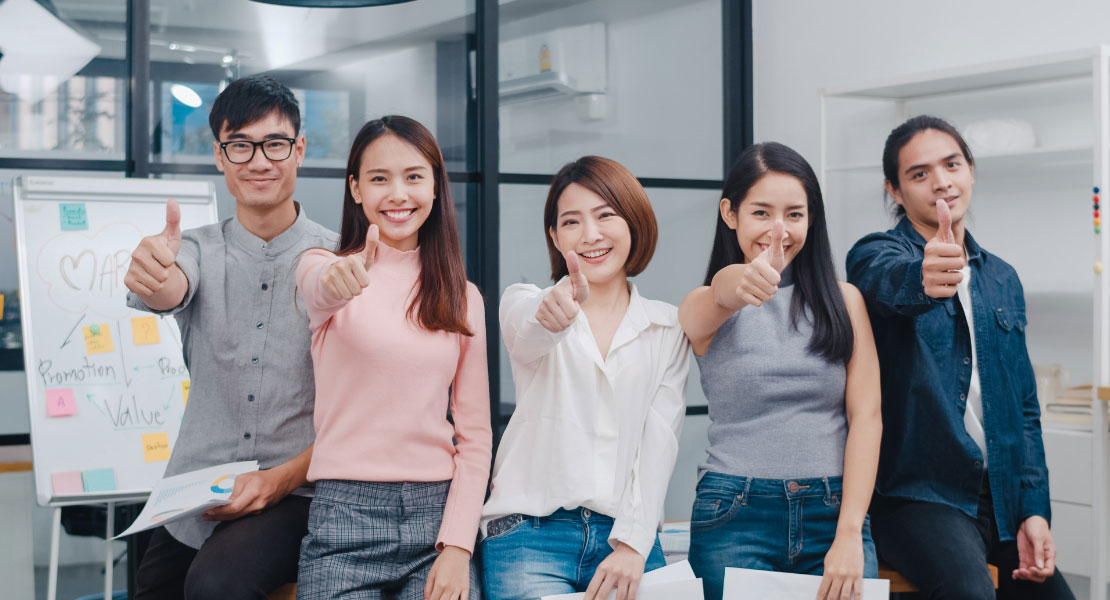 Malaysian Students Application Procedure
Step 1: Select Your Programme
Step 2: Completed Application Form & Accomodation Form (if Necessary)
Fill-in the online application form ONLY if you want to apply for admission into a programme offered at Nilai University. Confirm your accommodation type in the application (if needed).
Once we receive your online application, a counselor from the university will contact you for arrangements to pay the 1st semester's fees and confirm accommodation booking (if necessary).
You may pay for Application Fee and Accommodation Fee the 1st semester's fees via our fee payment channels as listed below:
Step 3: Submit Completed Accommodation Form to AO
Payment counter at Ground Floor, Resource Centre, Nilai University Campus
Operating hours: Monday to Friday from 8.00am to 4.00pm
Mode of payment:
Cash
Credit Card: Visa, Mastercard and Union Pay only
Debit Card: MyDebit, Visa/ Mastercard Debit Cards
Cheque-Payable to "NILAI EDUCATION SDN BHD"
1. JomPAY
Kindly refer to the diagram 1 below for details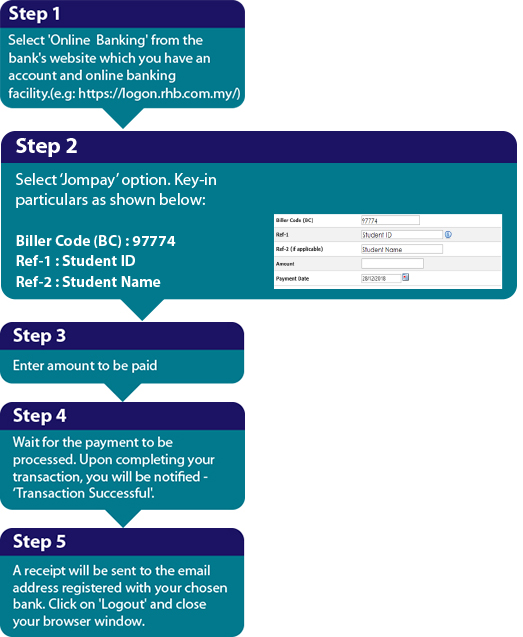 2. Bank Account Details:
Payee Name: Nilai Education Sdn Bhd
Account Number: 2-05051-1000097-9
Swift Code: RHBBMYKL
Bank Name/Address: RHB Bank Berhad, PT7460 & 7461, Jalan BBN 1/1A, Putra point, Bandar Baru Nilai, 71800 Nilai, Malaysia.
Bank Account Details:
Payee Name : Nilai Education Sdn Bhd
Account Number : 2-05051-1000097-9
Important Notice:
For payment channels 2 and 3, it is important to follow the following steps as shown below:
Step 1:
Provide your personal details and contact number:
1. Student name
2. Student ID number (for existing students) / IC or Passport number (for new students)
3. Contact details (phone and email)
Step 2:
Provide the evidence of payment / transaction slip to the University via:
1. Over the counter at Nilai University Campus
2. By Fax to: +60 6 8502499
3. Email to: [email protected]
Step 3:
Collect your official receipt over the counter
Note: Please allow 3 working days for local bank transfers and 7 working days for overseas transfers after you have submitted your evidence of payment to the University
For further enquiries, please contact Finance Department
Contact number: +60 6 8502338
Email: [email protected]
Address: Finance Department, Nilai University, 1, Persiaran University, Putra Nilai, 71800 Nilai, Malaysia.
Step 4: Issue letter of offer
LETTER OF OFFER:
The Letter of Offer will only be produced and given ONLY after receipt Application Fee. The letter will be emailed to you and the original posted to the address stated in the application form.
The Letter of Offer will come in a pack which includes:-
The Letter of Offer:
Information of your programme that you have applied for, intake date & admission/registration information will all be included in the letter.
Receipt:
A receipt of your initial payments will be included. Please contact us immediately if you do not receive a receipt with the pack.
Come and register and check into your rooms on the date stated in your Letter of Offer.
If you are unable to come, please call the Office of Admissions and Records (OAR) at +6068502338 to indicate the date that you will arrive to register and check into your accommodation.
Airport pick-up (for outstation students arriving by flight) can be arranged for new students. Call +6068502308 to speak to our counselors to arrange for transportation.
Step 5: Confirmation of Acceptance
Step 6: Start class & enjoy
Once registered, start your class and enjoy university life! If you require information on a programme, financing options or to clear any doubts, please use the online enquiry form OR call to speak to an education counselor at +6068502308.