Advanced Diploma in Aircraft Engineering Technology / BEng Aircraft Engineering with Honours
JPT/BPP(R2/525/5/0018)04/27, (MQA/FA1380)

Total Tuition Fee
RM 27,880.00

Duration of Study
1 Year
3 Semester

Intake Period
JANUARY / MAY / JULY / OCTOBER
Introduction
Gain a higher qualification, which will help you climb the career ladder in this highly lucrative field. This programme is designed to give students a deeper understanding of various courses first encountered in the Diploma in Aircraft Maintenance Engineering programme. Maintenance Engineering as equivalent to its Foundation Degree programme. The students would obtain an award from Kingston University, UK and another award from Nilai University.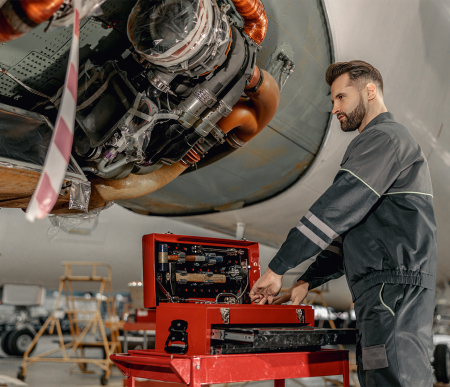 Advanced Diploma in Aircraft Engineering Technology / BEng Aircraft Engineering with Honours
Entry Requirements
Graduated with a Diploma in Aircraft Maintenance Engineering or in the related field with a minimum CGPA of 2.00 and a pass in English and possess SPM or an equivalent.

English Language Requirements* (for international students)
| | |
| --- | --- |
| MUET | 3 |
| IELTS | 5.0 |
| TOEFL | 500 (PBT) / 61 (iBT) |
| Pearson | 36 |
*International students with qualifications from educational systems where English language is the main medium of instruction are exempted from this requirement.
International students who do not fulfil the English Language Requirements may join the Intensive English Programme at Nilai University which builds their skills in the language and prepares them for the IELTS examination.
Programme Module
Core
Aerospace Technology I
Aerospace Technology II
Aircraft Engineering Individual Project I
Aircraft Engineering Individual Project II
Aircraft Maintenance Operations I
Aircraft Maintenance Operations II
Air Transport Economics I
Air Transport Economics II
Research Methods and Design
Electives
Airline and Airport Operations
Air Traffic Management
Aviation Safety
Mata Pelajaran Umum (Compulsory)
Bahasa Kebangsaan A
Bahasa Melayu Komunikasi (International Students) OR Pengajian Malaysia 2 (Malaysian Students)
Co-Curriculum
Environment and Development in Malaysia OR Food and Culture
Graduate Preparatory Course
Programme Educational Objective (PEO)
The aims of the field are to produce aircraft maintenance engineers who:
PEO 1
Possess a technical knowledge of the broader aspects of aircraft maintenance outside the scope of knowledge gained from aircraft maintenance engineering diploma and work experience within aircraft maintenance industry;
PEO 2
Develop and enhance the academic, professional and personal skills necessary for registration as Incorporated Engineers;
PEO 3
Possess knowledge and skills necessary for them to exploit their potential in the furtherance of their careers and ultimately become proficient managers in the aircraft maintenance industry.
Programme Learning Outcomes (PLO)
At the end of this programme, graduates should be able to:
PLO 1
Apply knowledge of fundamental principles of aerodynamics, propulsion, structures and materials to aircraft performance problems
PLO 2
Analyse well-defined engineering problems in aircraft engineering and airline transport;
PLO 3
Formulate solutions to well-defined technical problems in aircraft engineering and air transport industry;
PLO 4
Assist in the formulation of systems, components or processes to meet specified needs;
PLO 5
Conduct investigations of well-defined aircraft engineering problems;
PLO 6
Apply appropriate techniques, resources, and aircraft engineering tools to well-defined engineering activities, with an awareness of the limitations;
PLO 7
Demonstrate an awareness of and consideration for societal, health, safety, legal and cultural issues and their consequent responsibilities;
PLO 8
Communicate effectively with the engineering community and society at large;
PLO 9
Function effectively in a diverse technical team;
PLO 10
Demonstrate an understanding of professional ethics, responsibilities and norms of engineering practices;
PLO 11
Demonstrate skills in aircraft engineering management, business practices, entrepreneurships;
PLO 12
Demonstrate an understanding of the impact of aircraft engineering practices, taking into account the need for sustainable development;
PLO 13
Recognise the need for professional development and to engage in independent and lifelong learning.
Teaching Staff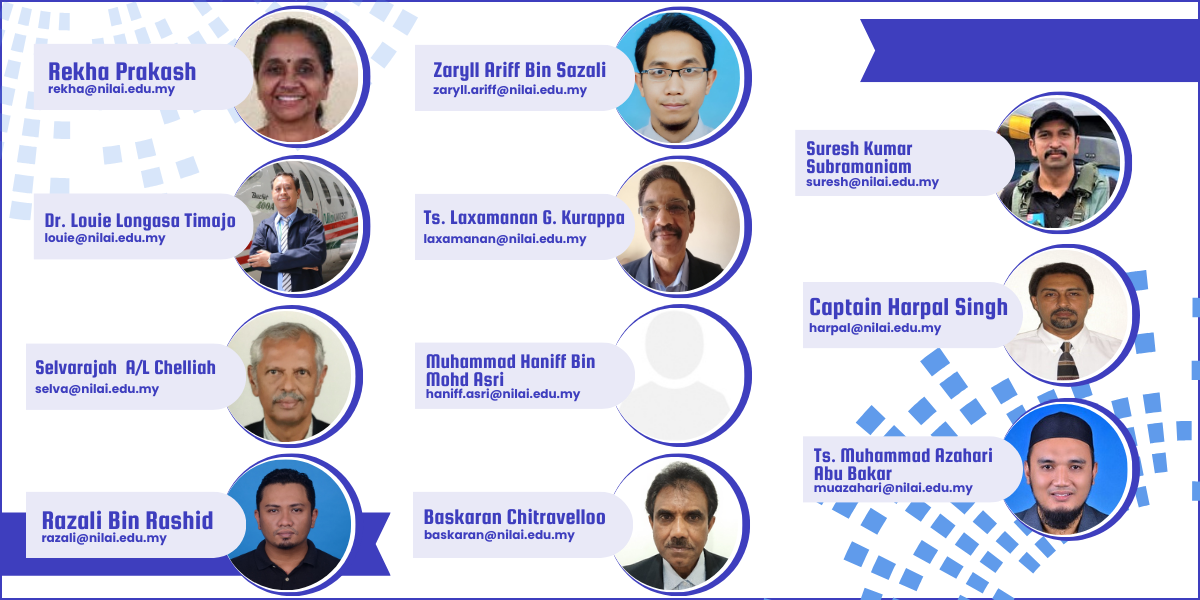 Programme Pathway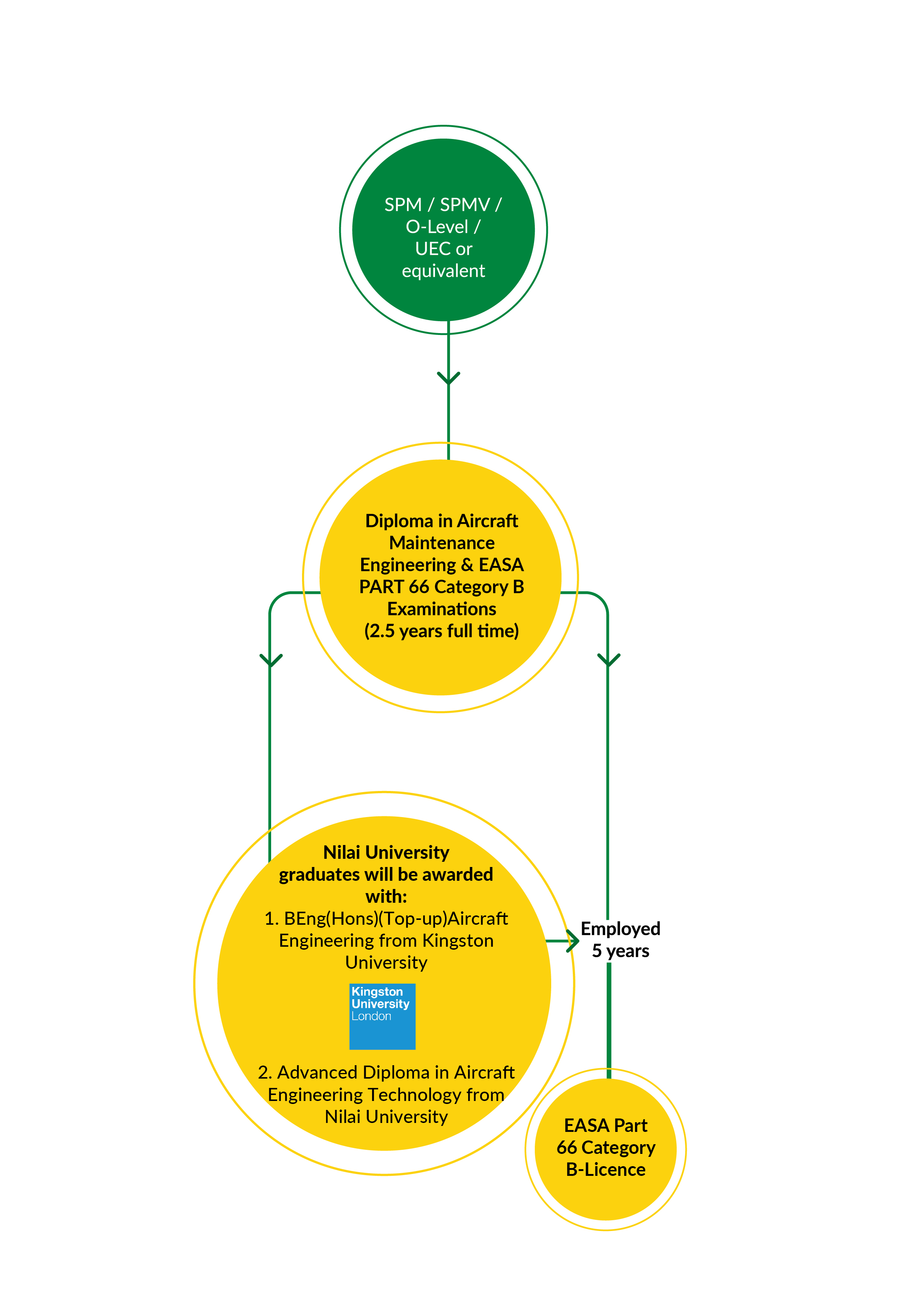 Career Prospects
Here are some career options after you've graduated in Aircraft Maintenance Engineering:
Aircraft Maintenance Technician
Aircraft Maintenance Engineer (Mechanical)
Aircraft Maintenance Engineer (Avionics)
Aero Components Repair Technician
Quality Assurance Engineer
Airworthiness Inspector
Technical Service Engineer
Scholarship
Nilai University offers scholarships for students from various backgrounds, with the goal of helping students grow to be well-rounded and ambitious individuals and allowing them to reach their goals through quality education. We achieve this by combining academic excellence with a growth mindset for life-long learning.