B.A. (Hons) in Business and Hospitality Management
JPT/BPP(R3/0488/6/0006) 08/28, (MQA/A9197)

Total Tuition Fee
RM 56,400.00

Duration of Study
3 Years
9 Semesters

Intake Period
JANUARY / MAY / JULY / OCTOBER
Introduction
Propel your managerial career in an exhilarating hospitality and tourism adventure. This programme equips you with professional skills in hospitality operations while developing your management abilities. You will acquire strong business acumen in managing people, profitability, issues, events and marketing within the hospitality and tourism industry. Ultimately, this programme gives you the career mobility to dive into a challenging supervisory position within the hospitality and tourism sector or optionally soar in a business specialization in any industry.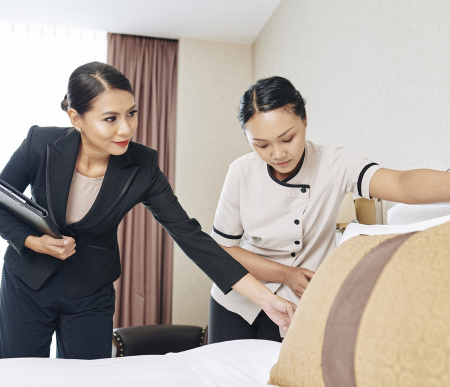 B.A. (Hons) in Business and Hospitality Management
Entry Requirements
| | |
| --- | --- |
| STPM | A pass with a minimum Grade C (GP 2.00) in any two (2) subjects |
| A-Level | A pass with a minimum of Grade D in any two (2) subjects |
| STAM | A Pass with a minimum grade of Jayyid (Good) |
| UEC | Pass UEC with at least Grade B in five (5) subjects |
| Matriculation / Foundation | A pass with a minimum CGPA of 2.00 |
| Diploma | A pass of any Diploma (MQF, Level 4) with minimum CGPA of 2.00 |
English Language Requirements* (for international student)
| | |
| --- | --- |
| MUET | 3 |
| IELTS | 5.0 |
| TOEFL | 410 (PBT) / 42 (iBT) |
| Pearson | 36 |
*International students with qualifications from educational systems where English language is the main medium of instruction are exempted from this requirement.
International students who do not fulfil the English Language Requirements may join the Intensive English Programme at Nilai University which builds their skills in the language and prepares them for the IELTS examination.
Programme Module
Foundational
Understanding Hospitality Businesses
Core
Accommodation Management
Consumer Behaviour
Developing the Hospitality Business
Entrepreneurial Business Planning
Essential of Information Skills
E-Business
Financial Analysis and Control for Hospitality and Tourism
Food and Beverage Service I
Food and Beverage Service II
Food Preparation I
Food Preparation II
Foundation of Business
Hospitality Events Management I
Hospitality Events Management II
Hospitality Law
Introduction to Financial Accounting
Introduction to French I
Introduction to Management Accounting
Introduction to Marketing
Issues in International Hospitality and Tourism Management
Managing Hospitality Business
Managing People in the International Hospitality and Tourism Industries
Organizational Behavior
Principles of Management
Research Methods
Revenue and Profit Management for Hospitality and Tourism
Strategic Management
Strategic Marketing Management in Hospitality and Tourism
Industrial Training
Capstone
Mata Pelajaran Umum / University Courses
Entrepreneurship
Ethics and Social Responsibility
Graduate Preparatory Course
Co-Curriculum
Critical Thinking
Introduction to Golf
Outward Bound
Penghayatan Etika dan Peradaban
Philosophy and Current Issues
Professional Development
Public Speaking
Malay Language (Only for Malaysian students without a credit in SPM BM)
Programme Pathway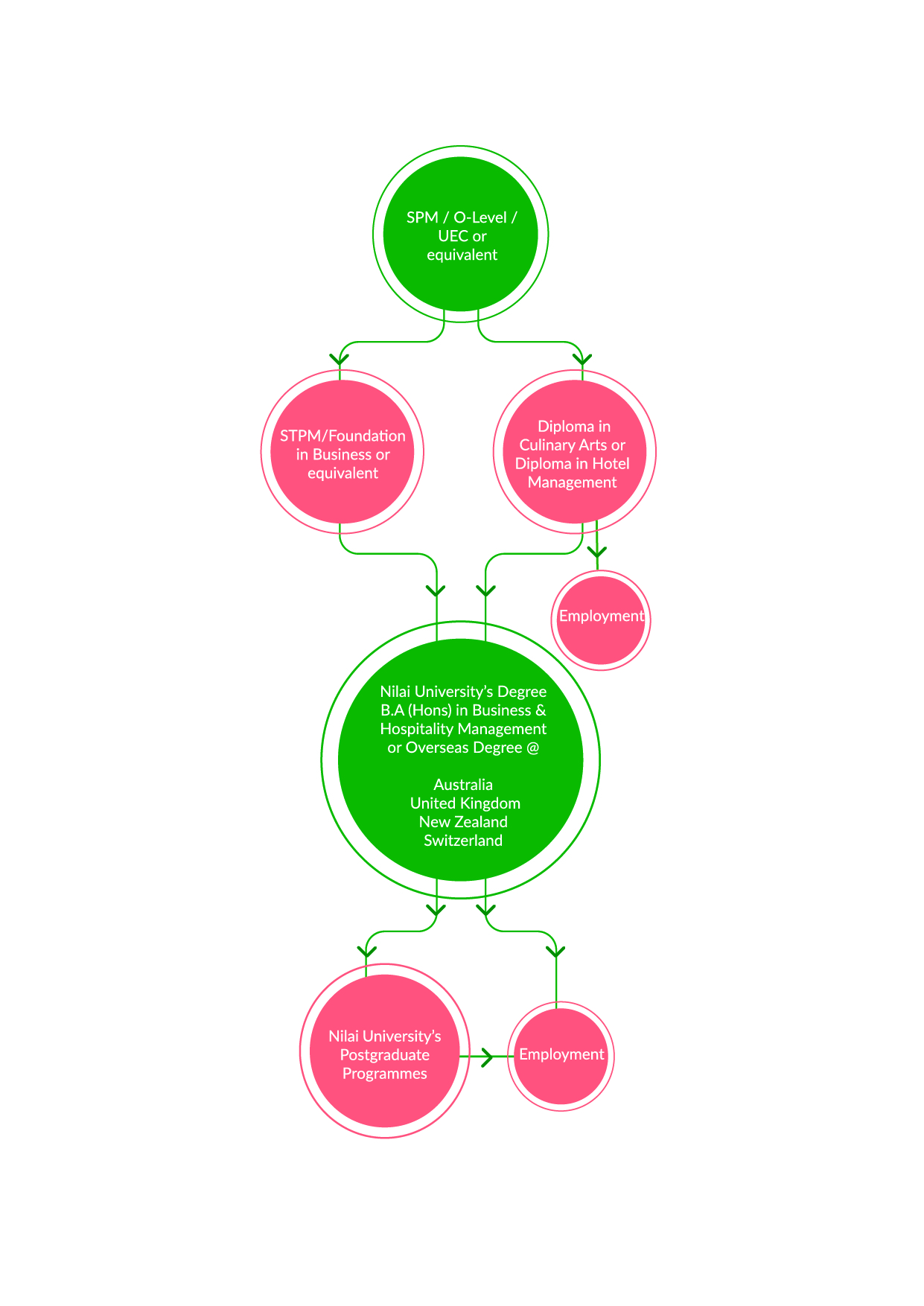 Career Prospects
Here are some career options after you've graduated with a diploma or degree in Hospitality & Tourism:
Chef
Commis/Cook
Cruise Ship Host
Hotel Manager
Food and Beverage Manager
Customer Service Manager
Event Manager
Restaurant Manager
Scholarship
Nilai University offers scholarships for students from various backgrounds, with the goal of helping students grow to be well-rounded and ambitious individuals and allowing them to reach their goals through quality education. We achieve this by combining academic excellence with a growth mindset for life-long learning.