Bachelor of Business Administration (Hons) in Finance
JPT/BPP(R3/0414/6/0039) 08/28, (MQA/A9107)

Total Tuition Fee
RM 54,000.00

Duration of Study
3 Years
9 Semesters

Intake Period
JANUARY / MAY / JULY / OCTOBER
Introduction
Financial decisions are critical to the economic well-being of both individuals and organizations. The B.B.A. (Hons) in Finance programme provides you with the essential aspects of financial knowledge. You will learn methodological tools and be equipped with a solid background and professional knowledge of corporate finance and the interrelation of its major concepts of money, time and risks. The programme helps you to learn economics and accounting fundamentals, and be armed with the analytical abilities to handle financial and investment activities in business organizations. With the relevant knowledge and experience, you will learn to make competent financial decisions, thereby contributing significantly to the success of your business organizations.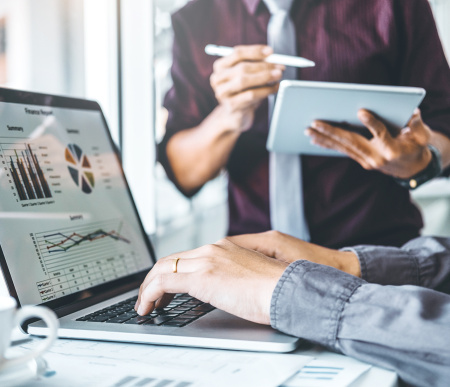 Bachelor of Business Administration (Hons) in Finance
Professional Certificate
Entry Requirements
STPM
A pass with a minimum Grade C+ (GP2.33) in any two (2) subjects and a credit in Mathematics at the SPM level
A-Level
A pass with a minimum Grade D in any two (2) subjects
STAM
A pass with a minimum Grade of Jayyid (good) and pass in Mathematics at the SPM level
UEC
A pass with at least Grade B in five (5) subjects including Mathematics
Foundation / Matriculation
Minimum CGPA of 2.50 and a credit in Mathematics at the SPM level
Diploma in Accounting or related field
Minimum CGPA of 2.50
*The requirement to pass Mathematics at the SPM level can be waived when the qualifications contain Mathematics with an equivalent/ higher achievement.
*Malaysian students using English as the medium of instruction in their previous study or at least with Band 2 in MUET or equivalent can be exempted from a pass in English requirement.
*Those without a pass in Mathematics and/ or English at the SPM level or equivalent can be admitted but are required to attend special enhancement courses, which should be an SPM equivalent.
English Language Requirements* (for international student)
| | |
| --- | --- |
| MUET | 2 |
| IELTS | 5.5 |
| TOEFL | 550 (PBT) / 79 (iBT) |
| Pearson | 42 |

*International students with qualifications from educational systems where English language is the main medium of instruction are exempted from this requirement.
International students who do not fulfil the English Language Requirements may join the Intensive English Programme at Nilai University which builds their skills in the language and prepares them for the IELTS examination.
Programme Module
Foundational
Core and Disciplinary
Accounting Information System
Advance Taxation
Business Analytics
Business Communication
Business Economics for Financial Markets
Business Ethics and Social Responsibility
Business Research Methods
Corporate Finance
Corporate Law, Governance and Estate Planning
Developing Business
Digital Marketing
Entrepreneurship
Essentials of Information Skills
Financial Derivative
Financial Markets and Institutions
Financial Technology
Human Resources Management
International Business
International Finance
Introduction to Finance
Introduction to Financial Accounting
Introduction to Management Accounting
Investments
Islamic Banking & Finance
Law for Business
Organisation Behaviour
Personal Finance
Personal Taxation
Principles of Management
Principles of Marketing
Quantitative Methods for Business
Retirement Planning and Financial Management
Risk Management and Insurance
Strategic Management
Capstone
Business Synoptic in Accounting and Finance
Mata Pelajaran Umum
MPU1A

Penghayatan Etika dan Peradaban (Malaysian Students) OR
Bahasa Melayu Komunikasi 2 (International Students)

MPU1B

Philosophy and Current Issue (Malaysian and International Students)

MPU2A

Graduate Preparatory Course

MPU2B-F (Choose 3 University Courses)

B
C
D
E
F

Introduction to French
Introduction to Golf
Outward Bound

MPU3

Ethics and Social Responsibility

MPU4
Malay Language (Only for Malaysian students without a credit in SPM BM)
Industrial Training
Programme Pathway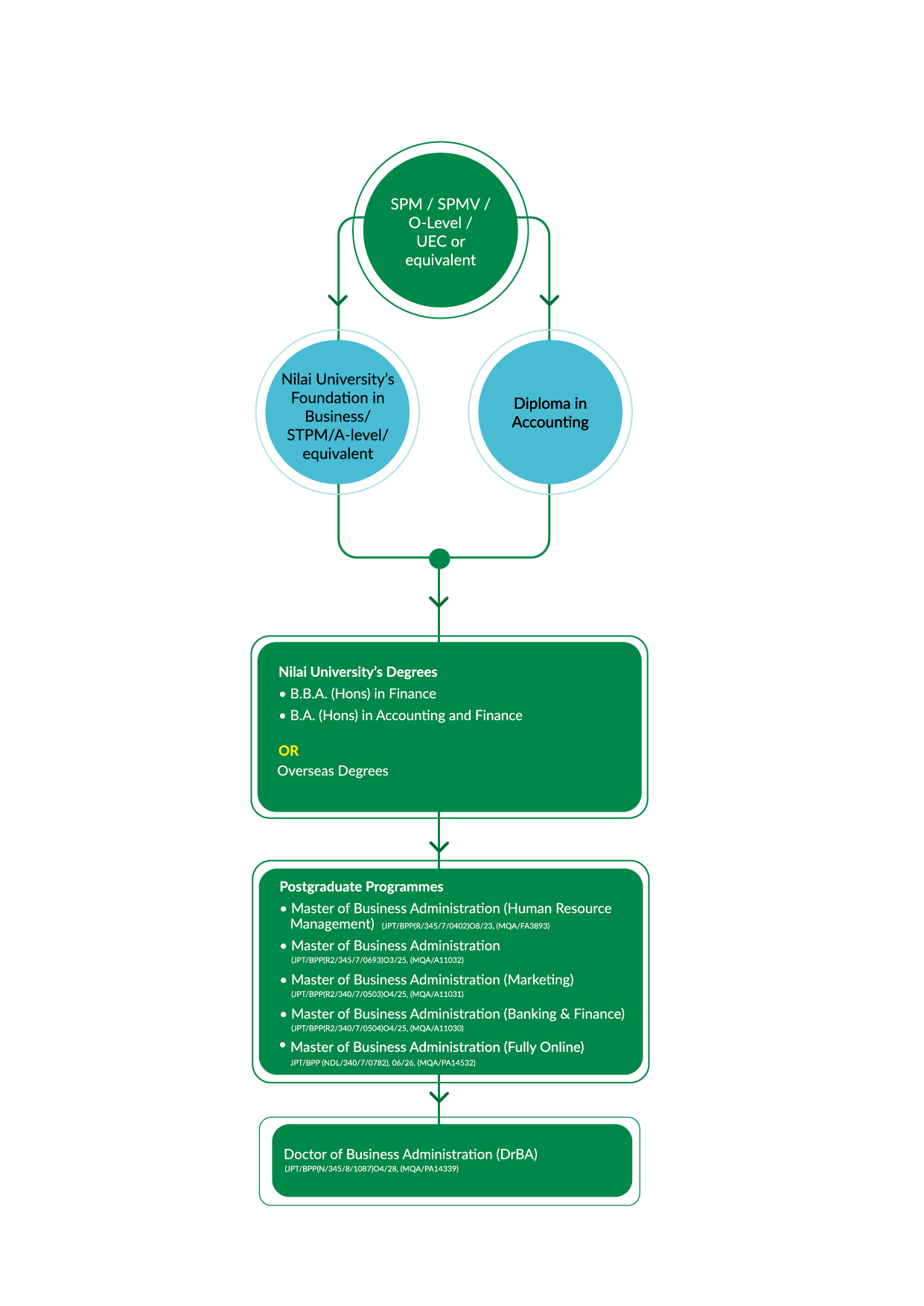 Career Prospects
Here are some career options after you've graduated in Accounting & Finance:
Chartered accountant
Finance controller
Company secretary
External auditor
Forensic accountant
Stockbroker
Scholarship
Nilai University offers scholarships for students from various backgrounds, with the goal of helping students grow to be well-rounded and ambitious individuals and allowing them to reach their goals through quality education. We achieve this by combining academic excellence with a growth mindset for life-long learning.