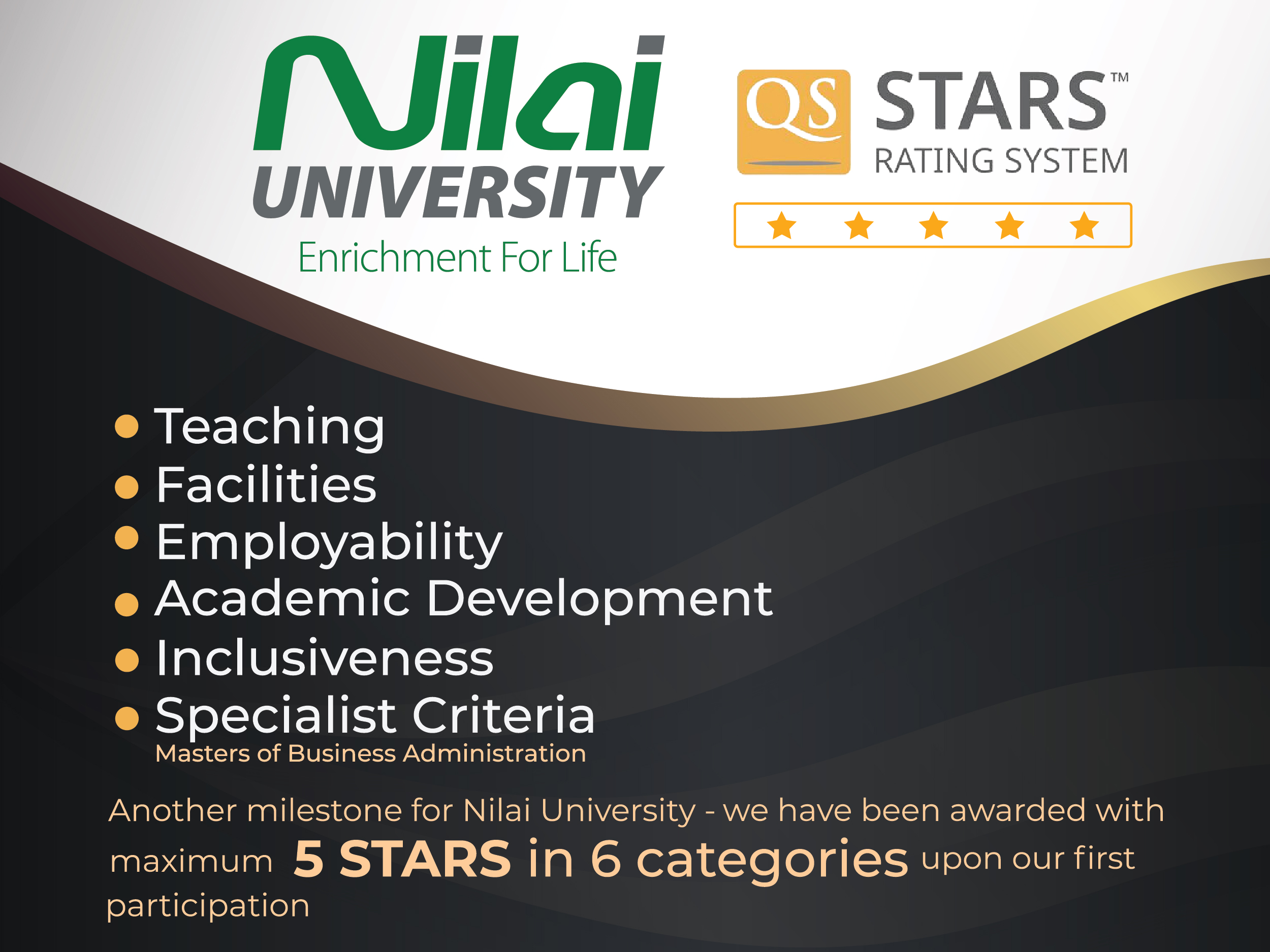 Nilai University has a clear vision of embodying an international centre for educational excellence, dedicated to providing students with learning experiences that will enrich them for life. This vision has once again been affirmed by the University attaining the maximum 5 STARS in 6 categories, as recognized by the globally acclaimed Quacquarelli Symonds (QS) Rating. This is Nilai University's first-ever participation, and the recognition is definitely a testament to the stringent quality of education that is delivered passionately.
Earning 5 stars in teaching is attributed to the optimal faculty-to-student ratio, high student satisfaction, and completion rates. Nilai University's facilities have also earned a 5-star QS rating, reflecting the commitment to creating in home away from home, with the main focus on ensuring a safe and conducive environment for learning. Beyond the classroom and books, students are equipped with leadership skills, soft skills, social skills, as well as opportunities for extracurricular activities through a multitude of student clubs and societies.
Our outstanding record in employer endorsement and exceptional career support attests to the excellent employability of our students who are now enjoying successful careers in every corner of the world. Nilai University is also proud to be recognized for its game-changing innovation in academic development programs which develops not only the students but also the staff. The University strongly believes staff with updated and innovative knowledge and skills will build graduates that are constantly on the move with the industry. The myriad of global university networks, and partnerships formed for the exchange of knowledge, technology, and facilities enhances the ability of the University to form a collegiate of staff to support the students.
The inclusive policy at Nilai University prioritizes education for all through scholarships and reach-out programs to those from low-income groups who seek quality education in an undivided, inclusive, and fair educational environment. With this, Nilai University also celebrates the diversity of gender, ethnicity, and those who are physically challenged. Nilai University has also earned a 5-star rating for its Masters of Business Administration program. Recognized as an MBA specialist with world-renowned accreditations, the University's rigorous commitment to quality education and impeccable faculty-student ratio ensures that students experience nothing less than exceptional lifelong satisfaction with the knowledge gained.
Other than QS Stars Rating, the Malaysian Ministry of Education also recognizes Nilai University's excellence by endorsing the University as Competitive ('Berdaya Saing') in the recent national-scale Rating System for Malaysian Higher Education (SETARA). Nilai University has notably excelled in (a) General and (b) Teaching and Learning. This accomplishment undeniably reiterates the University's strength in competing in a greater league and defies the limit of education that transcends borders.
These series of breakthroughs mark just the beginning of the University's journey towards conquering even more recognition of excellence. With Nilai University's consistent achievements in both national and international grounds, the University is immensely determined to lead the way in transformative education alongside the community.