Diploma in Computer Science
JPT/BPP(R3/481/4/0250)06/28, (MQA/A3229)

Total Tuition Fee
RM 31,500.00

Duration of Study
2.5 Years
7 Semesters

Intake Period
JANUARY / MAY / JULY / OCTOBER
Introduction
As Information Technology is assimilated into almost every aspect of our daily lives, this sector will continue to experience positive growth in the coming years. This internationally recognised diploma prepares you for the job market where you will be able to apply the skills and know-how to effectively execute a wide range of services such as software analysis and management, database administration and design, programming as well as web, multimedia and systems development.
Graduates of this programme are recognised to enter into a Degree programme at Nilai University or proceed to complete a relevant degree with our reputable partner universities in Australia, Canada, New Zealand and the United Kingdom.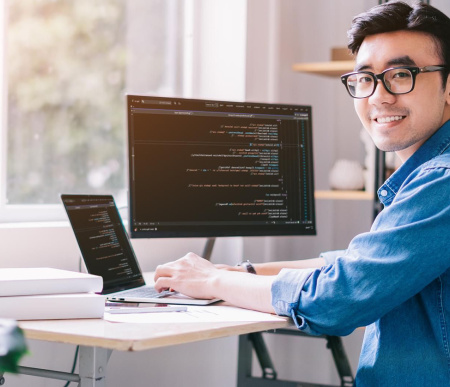 Diploma in Computer Science
Entry Requirements
| | |
| --- | --- |
| SPM/O-Level | 3C's including Maths |
| UEC | 3B's including Maths |
| STPM or equivalent | A pass with a minimum of Grade C (GP 2.0) in any subject and a credit in SPM Maths |
| STAM or equivalent | A pass with a minimum Grade of Maqbul (pass) and a credit in SPM Maths |
| A-Level | A pass with a minimum Grade D in any subject and grade C in SPM / O-Level Maths |
| SKK / SKM Certificate (MQF Level 3) in related field | A pass and a credit in SPM Maths |
Candidates without a credit in Mathematics at the SPM level or its equivalent maybe admitted if the certificate programme contains Mathematics that are equivalent to Mathematics at the SPM level.
Candidates with a credit in a computing related subject at the SPM level or its equivalent maybe given preferential consideration.
English Language Requirements* (for international students)
| | |
| --- | --- |
| MUET | 2 |
| IELTS | 4.0 |
| TOEFL | 397 (PBT) / 30 (iBT) |
| Pearson | 36 |
*International students with qualifications from educational systems where English language is the main medium of instruction are exempted from this requirement.
International students who do not fulfil the English Language Requirements may join the Intensive English Programme at Nilai University which builds their skills in the language and prepares them for the IELTS examination.
Programme Module
Foundational
Core
Basic Business Administration
Calculus and Algebra
Computer Organisation
Data Communications and Networking
Data Structure
Database Development
Discrete Mathematics
Human Computer Interaction
Introduction to Artificial Intelligence
Introduction to Computer Security
Introduction to Public Speaking
Object Oriented Programming
Operating Systems
Software Engineering
Statistics
Structured Programming
Systems Analysis and Design
Visual Programming
Web Development
Electives
Information Systems
Internet Programming
Introduction to Cloud Computing
Introduction to IoT
Principles of Entrepreneurship
Final Year Project
Summative (Computing Project)
Industrial Training
Mata Pelajaran Umum
Malay Language (Only for Malaysian students without a credit in SPM BM)
Programme Pathway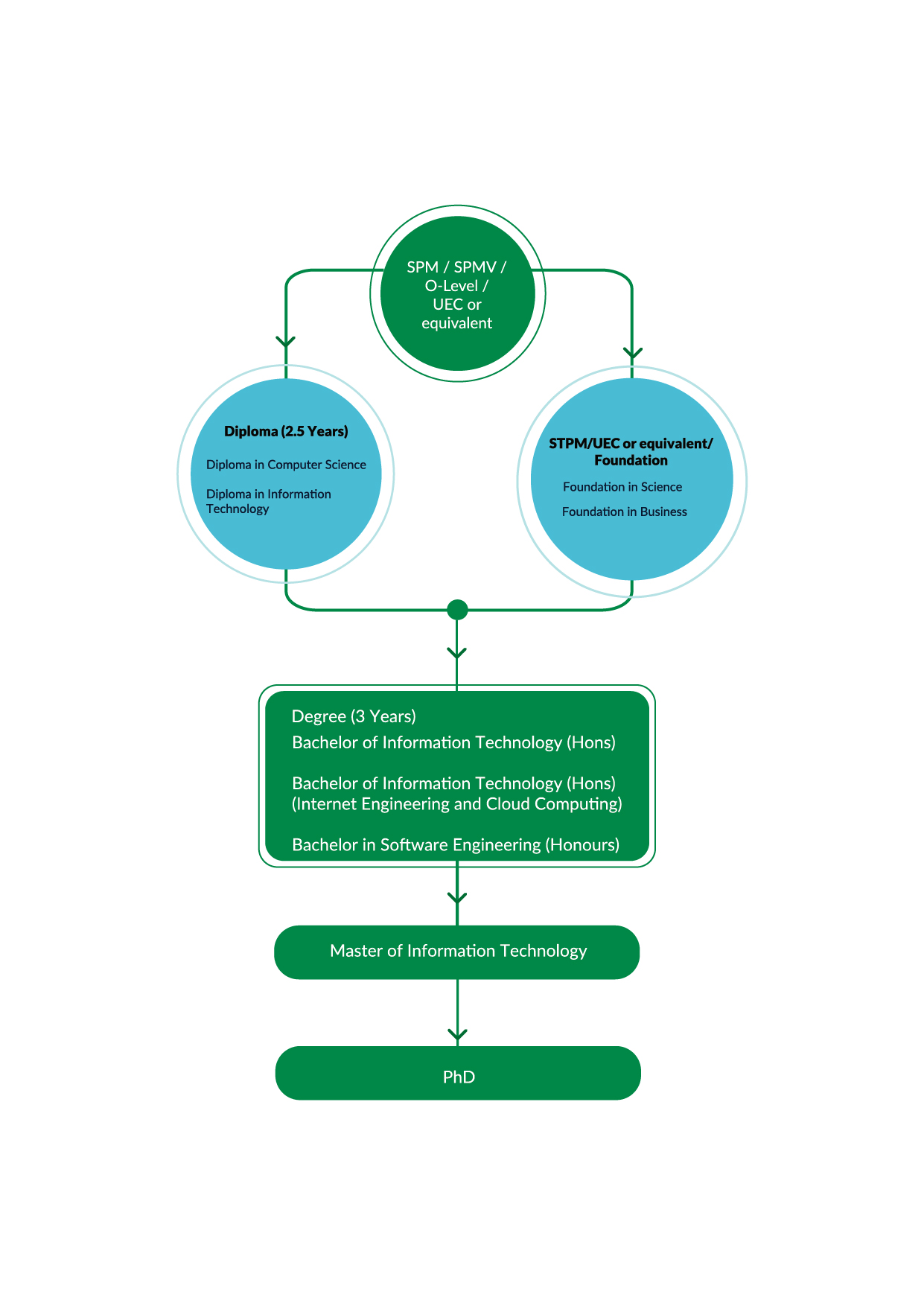 Career Prospects
Here are some career options to choose from after you've graduated in computing or IT:
Software Engineer
Web Developer
Cybersecurity Analyst
Database Analyst
Java Programmer
Network Engineer
Database Administrator
Software Developer
Quality Engineer
System Analyst
Scholarship
Nilai University offers scholarships for students from various backgrounds, with the goal of helping students grow to be well-rounded and ambitious individuals and allowing them to reach their goals through quality education. We achieve this by combining academic excellence with a growth mindset for life-long learning.