Diploma in Business Administration
JPT/BPP(R2/345/4/0454)04/24, (MQA/A4997)

Total Tuition Fee
RM 28,800.00

Duration of Study
2.5 Years
7 Semesters

Intake Period
JANUARY / MAY / JULY / OCTOBER
Introduction
This established and internationally recognised Diploma programme develops your understanding of the business environment and equips you with the skills and knowledge in business. You will also be introduced to the fundamentals of business administration, economics, business management, marketing, business law, finance and business communications. You will be trained to analyse and record transactions and communicate financial data for management decision making. Graduates of this programme can progress to enter into the Degree programme at Nilai University or proceed to complete a relevant degree with one of our reputable partner universities in Australia, New Zealand or the United Kingdom.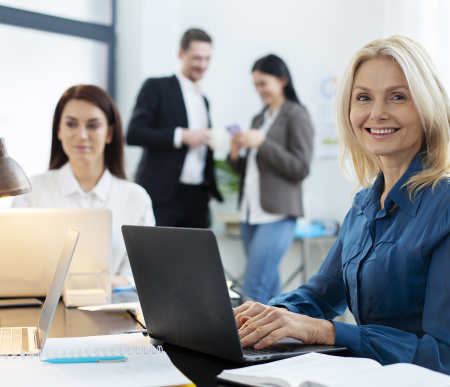 Diploma in Business Administration
Entry Requirements
| | |
| --- | --- |
| SPM / O-Level | A pass with at least a credit in any three (3) subjects |
| UEC | A pass with at least Grade B in any three (3) subjects |
| STPM | A pass with a minimum Grade of C (GP2.00) in any subject |
| STAM | A pass with a minimum Grade of Maqbul (Pass) |
| SKM & SKK (Level 3) | A pass in the related field |
| Certificate (Level 3, MQF) | A pass in the related field with a minimum CGPA of 2.00 |
English Language Requirements* (for international students)
| | |
| --- | --- |
| MUET | 3 |
| IELTS | 5.0 |
| TOEFL | 450 (PBT) / 46 (iBT) |
| Pearson | 42 |
*International students with qualifications from educational systems where English language is the main medium of instruction are exempted from this requirement.
International students who do not fulfill the English Language Requirements may join the Intensive English Programme at Nilai University which builds their skills in the language and prepares them for the IELTS examination.
Programme Module
Common Core
Basic Business Administration
Business Communication
Business Ethics
Business Strategies
Fundamentals of Cost Accounting
Fundamentals of Finance
Fundamentals of Financial Accounting
Fundamentals of Management
Fundamentals of Marketing
Human Resource Management
Introduction to Information Technology
Law for Business
Principles of Macroeconomics
Principles of Microeconomics
Organisational Behaviour
Statistical and Mathematical Modelling
Discipline Core
Developing Management Capabilities
Digital Marketing
E-Commerce
Fundamentals of Personal Finance
Human Resource Development
Managing Business Operations
Marketing Management
Principles of Entrepreneurship
Supply Chain Management
Electives
English Language Proficiency
Introduction to Academic English
Compulsory Courses
Graduate Preparatory Course
Bahasa Melayu Komunikasi 1 (International Students) OR
Penghayatan Etika dan Peradaban (Malaysian Students)
Co-curriculum
Introduction to Academic English
Programme Educational Objective (PEO)
Upon completion of the programme, graduates will be able to:
PEO 1
Possess broad-based theoretical and practical knowledge in business.
PEO 2
Possess broad-based operational and entrepreneurial skills to perform effectively and responsibly in different organisations.
PEO 3
Use a wider range of digital applications and numeracy skills to support business functions.
PEO 4
Demonstrate teamwork, interpersonal communication, creativity and innovation skills.
PEO 5
Pursue lifelong learning in education and career.
Programme Learning Outcomes (PLO)
Upon completion of the programme, graduates will be able to:
PLO 1
Describe broad-based principles and theories in business.
PLO 2
Apply broad-based business knowledge to solve routine and non-routine problems in different organisations.
PLO 3
Perform routine and non-routine tasks/operations ethically and flexibly within business organisations.
PLO 4
Demonstrate effective written and oral communication and collaborative skills.
PLO 5
Demonstrate relevant digital skills for work/study.
PLO 6
Interpret numerical and graphical data with relevant tools.
PLO 7
Demonstrate responsibility for business operations for self and others with minimal guidance.
PLO 8
Demonstrate self-improvement for academic and career development.
PLO 9
Demonstrate broad entrepreneurship skills.
Programme Pathway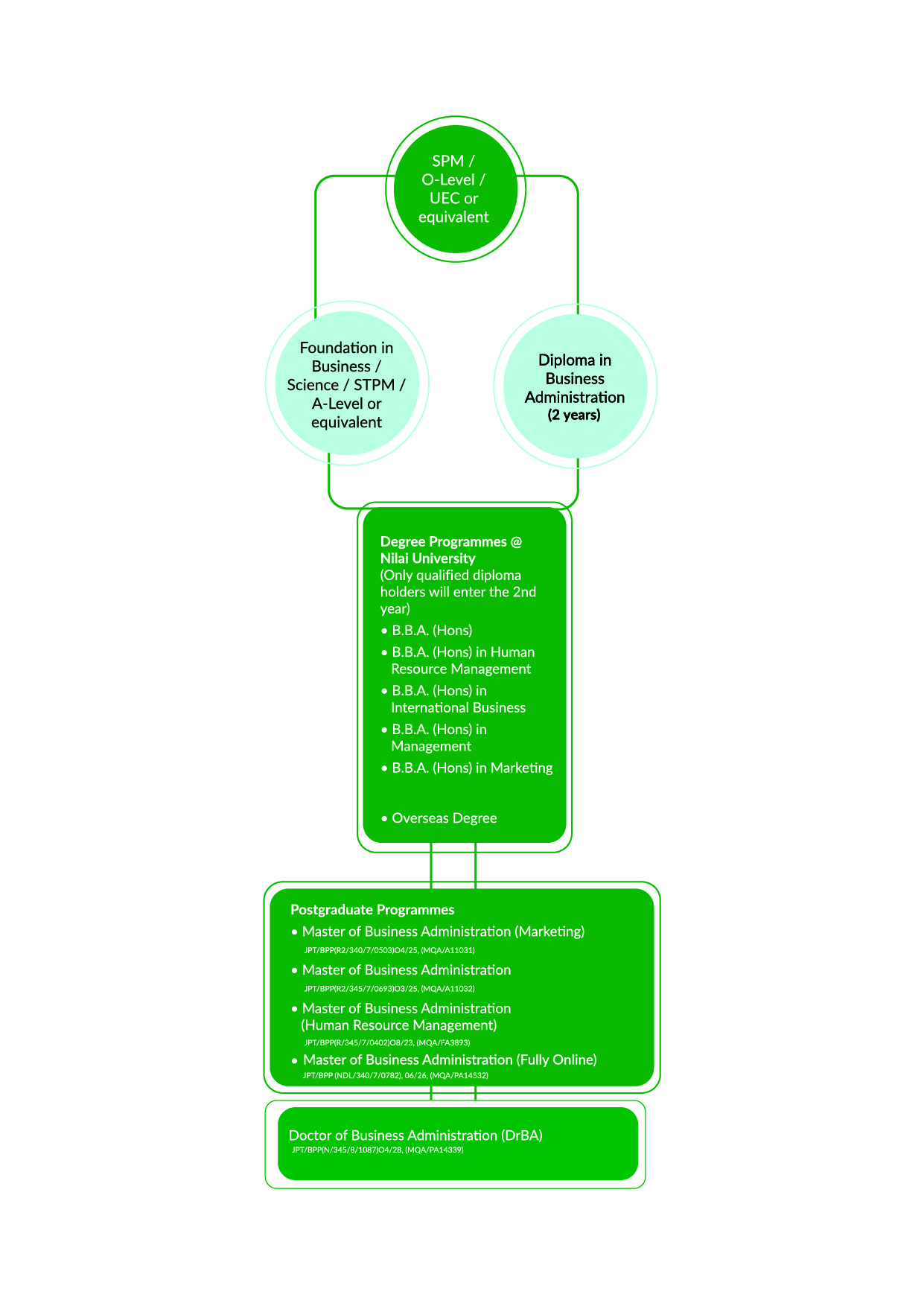 Career Prospects
Here are some career options after you've graduated in Marketing and Management:
Emergency Management Director
Marketing Manager
Product Manager
Social Media Executive
Public Relations Executive
Marketing Consultant
Brand executive
Business Development Executive
Bank Executive
Scholarship
Nilai University offers scholarships for students from various backgrounds, with the goal of helping students grow to be well-rounded and ambitious individuals and allowing them to reach their goals through quality education. We achieve this by combining academic excellence with a growth mindset for life-long learning.