Bachelor of Business Administration (Hons) in Human Resource Management
JPT/BPP(R3/0414/6/0036) 08/28, (MQA/A9108)

Total Tuition Fee
RM 54,000.00

Duration of Study
3 Years
9 Semesters

Intake Period
JANUARY / MAY / JULY / OCTOBER
Introduction
Nilai University's B.B.A. (Hons) in Human Resource Management is designed to provide you with the vital knowledge, skills, techniques and expertise focusing on the management of the most vital asset in an organization, i.e. people. These individuals contribute to achieving the set objectives of an organization. Here, you would be trained to become qualified and competent professionals in Human Resource Management and would also learn how to create a working environment in which employees will be motivated and productive..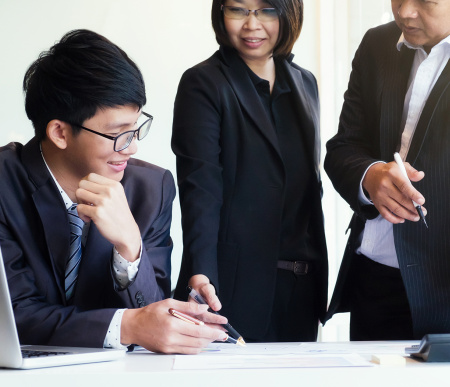 Bachelor of Business Administration (Hons) in Human Resource Management
Entry Requirements
| | |
| --- | --- |
| STPM | A pass with a minimum Grade of C in any two (2) subjects and pass in Mathematics and English at the SPM level |
| A-Level | A pass with a minimum Grade D in any two (2) subjects. |
| UEC | A pass with a minimum Grade B in five (5) subjects and pass in Mathematics and English |
| STAM | A pass with minimum Grade of Jayyid (good) and pass in Mathematics and English at the SPM level |
| Foundation / Matriculation | Minimum CGPA of 2.00 |
| Diploma / Advanced Diploma (Level 4/5, MQF) | Minimum CGPA of 2.00 |
*The requirement to pass Mathematics at the SPM level can be waived when the qualifications contain Mathematics with an equivalent/ higher achievement.
*Malaysian students using English as the medium of instruction in their previous study or at least with Band 2 in MUET or equivalent can be exempted from a pass in English requirement.
*Those without a pass in Mathematics and/ or English at the SPM level or equivalent can be admitted but are required to attend special enhancement courses, which should be an SPM equivalent.
English Language Requirements* (for international student)
| | |
| --- | --- |
| MUET | 3 |
| IELTS | 5.5 |
| TOEFL | 450 (PBT) / 46 (iBT) |
| Pearson | 42 |

*International students with qualifications from educational systems where English language is the main medium of instruction are exempted from this requirement.
International students who do not fulfill the English Language Requirements may join the Intensive English Programme at Nilai University which builds their skills in the language and prepares them for the IELTS examination
Programme Module
Common Core
Business Communication
Business Ethics and Social Responsibility
Essentials of Information Skills
Foundation of Business
Human Resource Management
Introduction to Finance
Introduction to Financial Accounting
Introduction to Management Accounting
Law for Business
Principles of Management
Principles of Marketing
Principles of Macroeconomics
Principles of Microeconomics
Quantitative Methods for Business
Discipline Core
Business Analytics
Business Research Methods
E-Commerce
Entrepreneurship
Financial Technology
International Business
Leadership
Marketing Management
Organisational Behaviour
Organisational Theory and Design
Personal Finance
Strategic Management
Specialization
Business Project Plan
Compensation and Benefits
Global Talent Management
Health and Safety in Human Resource
Human Resource Development
Human Resource Information System
Human Resource Management for Practitioner
Human Resources Planning
Industrial Relations
Recruitment and Human Resource Issues in Outsourcing
Industrial Training
Compulsory Courses
Graduate Preparatory Course
Bahasa Melayu Komunikasi 2 (International Students) OR
Penghayatan Etika dan Peradaban (Malaysian Students)
Philosophy and Current Issues (Malaysian & International Students)
Co-curriculum
Programme Educational Objective (PEO)
Upon completion of the programme, graduates will be able to:
PEO 1
Possess in-depth and comprehensive theoretical and practical knowledge in business.
PEO 2
Possess comprehensive managerial and entrepreneurial skills to perform effectively and responsibly in different organisations.
PEO 3
Use a broad range of digital applications and analytical techniques to support business functions.
PEO 4
Demonstrate teamwork, leadership, interpersonal communication, creativity, and innovation skills.
PEO 5
Commit and seek learning for continuous development.
Programme Learning Outcomes (PLO)
Upon completion of the programme, graduates will be able to:
PLO 1
Assess in-depth theories and concepts in business.
PLO 2
Apply in-depth and comprehensive business knowledge to manage complex problems in business organisations using different approaches.
PLO 3
Organise tasks/operations ethically and flexibly within business organisations.
PLO 4
Demonstrate effective written and oral communication and collaborative skills with diverse stakeholders.
PLO 5
Demonstrate relevant digital skills for work/study.
PLO 6
Analyse numerical and graphical data to assist decision-making in work/study.
PLO 7
Demonstrate leadership skills and responsibility in managing business organisations.
Programme Pathway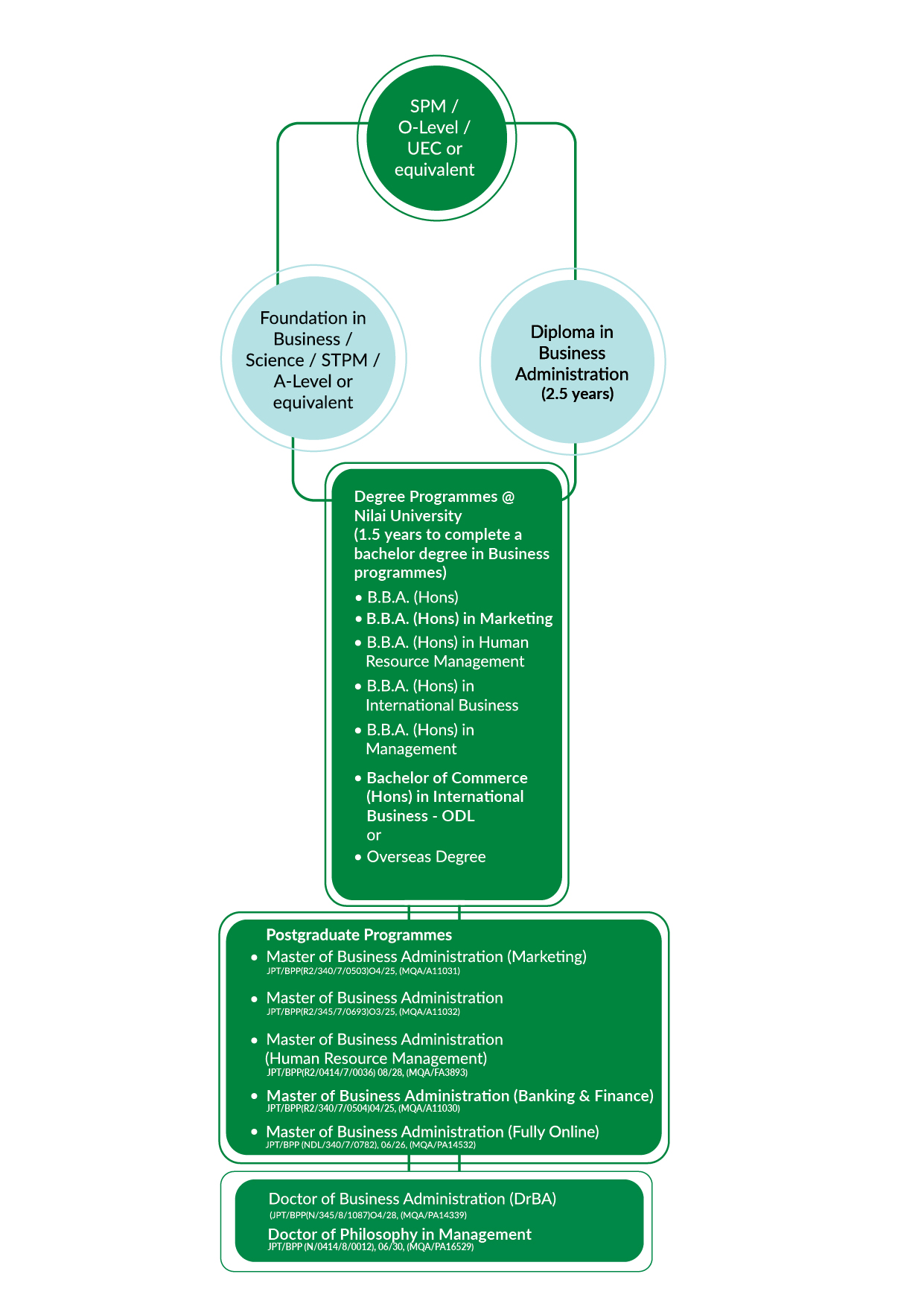 Career Prospects
Here are some career options after you've graduated in Marketing and Management:
Emergency Management Director
Marketing Manager
Product Manager
Social Media Executive
Public Relations Executive
Marketing Consultant
Brand executive
Business Development Executive
Bank Executive
Scholarship
Nilai University offers scholarships for students from various backgrounds, with the goal of helping students grow to be well-rounded and ambitious individuals and allowing them to reach their goals through quality education. We achieve this by combining academic excellence with a growth mindset for life-long learning.